Hard Drive Data Recovery
Thousands of people have gotten their data back and saved an average of $500!
Thousands of Successful Recoveries
| | | |
| --- | --- | --- |
| 4.7 | These guys are legit. They fixed my hard drive for their quoted reasonable price. Full transparency and no BS. Best decision I could have made. | Communication was great, the price was affordable, service was quicker than estimated, and the data recovery was 100% complete! |
| | Outsource saved the day. In a couple of weeks they repaired the drive, indexed my files, and restored my data to a new hard drive. The service was fast and friendly, and their prices were fair. Other companies felt like they were trying to hijack me with charges so high they seemed criminal. | I was beside myself with anxiety over data I could not access on a broken flash drive. I was treated in a calm professional manner by agents who empathized with my situation. My flash drive data was recovered and I had it 4 days ahead of the promised time. |
Hard Drive PCB Issues
Failed PCB or Firmware Issues
There are many possible causes for hard drive failure. Check out our video on how to identify common failures. One of the most common is a burnt circuit board, or PCB. The cause of this can be a power surge or other sudden electrical jolt. If your drive won't spin up, or if you smell smoke coming from the drive, this could be a burnt PCB, which you should fix as soon as possible.
Replacing a Failed PCB
If the issue is your PCB, you can try to repair your hard drive by replacing it. Make sure to use this donor matching guide for data recovery to increase the chances of compatibility between the drive and the new circuit board. For instance, you should use a new PCB with the same model number and PCB revision. Also, check out our video to the right for some tips on how to replace the PCB. If you would rather not attempt this yourself, Outsource offers a $60 Hard Drive Repair Service, which includes the repair or replacement of the PCB, with parts and labor!
Other Common Problems with Hard Drives
Clicking Drive
If your drive is clicking, power it down immediately! This could be a sign of a mechanical issue, such as a head crash.
Bad Sectors
Bad sectors generally signify surface damage, degrading magnetic head reading capabilities, or the end of life of the hard drive.
ROM/NV-RAM
EPROM or NV-RAM becomes corrupt and locks out data access. The data will need to be manually adjusted and reprogrammed to the PCB.
Translator
Corruption of system area translator modules results in loss of data access and requires a "hot swap".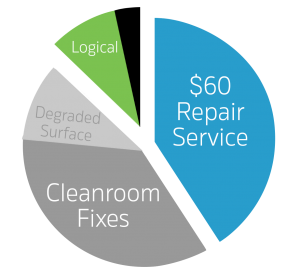 Frequency of Failures
41% $60 Repair Service: includes electrical failures, such as failed PCBs, Brick errors, translator corruption, or basic firmware issues. Cost: $60*
36% Cleanroom recovery: includes data recovery from drives with head crashes, preamplifier failures, or other mechanical issues requiring a cleanroom. Avg. cost: $787*
10% Degraded surface: another type of mechanical failure, also known as bad sectors, which usually does not require a cleanroom. Avg. cost: $545*
9% Logical issues: includes recovery of deleted data and similar logical issues. Avg. cost: $336*
4% Advanced firmware: includes advanced firmware failures not covered under the $60 Hard Drive Repair, such as corrupted firmware on the disk platters. Avg. cost: $567*
*All data recovery services are all-inclusive and include repair, recovery, parts, and transfer media. These prices are the average paid by actual customers in 2014 excluding discounts, such as those our Partner Program members receive. Prices will vary depending on several factors. The $60 Hard Drive Repair Service is not a data recovery service and only includes repair (parts and labor) for drives that do not need data recovery.
Select your manufacturer to find your model and learn more on failures specific to that drive.