Why Use Outsource?
No Risk
Our True No-Data, No-Charge Guarantee means there are no hidden fees, no attempt fees, no parts fees. If we cannot recover your data, you will not pay any service fee!
Affordable
Our services start as low as our $60 Hard Drive Repair Service, and our data recovery prices are generally 30% below the competition. In addition, we offer payment plans to spread out the
cost of your recovery
.
Expertise
We have serviced thousands of
hard drives
, flash drives,
RAID arrays
, and more, and we have decades of combined experience. We are so reliable that many other data recovery companies routinely outsource their difficult projects to us, knowing that we will deliver.
Common Problems with Hard Drives
Clicking Drive
If your drive is clicking, power it down immediately!
This could be a sign of a mechanical issue, such as a
head crash
.
Bad Sectors
Bad sectors generally signify
surface damage
, degrading magnetic head reading capabilities, or the end of life of the hard drive.
ROM/NV-RAM
EPROM or NV-RAM becomes corrupt and
locks out data access
. The data will need to be manually adjusted and reprogrammed to the PCB.
Translator
Corruption of system area translator modules results in
loss of data access
and requires a "hot swap".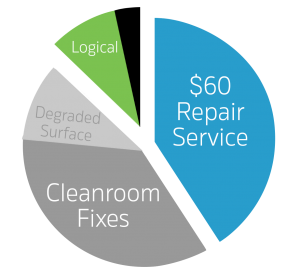 Frequency of Failures
41% $60 Repair Service:
includes electrical failures, such as failed PCBs, Brick errors, translator corruption, or basic firmware issues.
Cost: $60
*
36% Cleanroom recovery:
includes data recovery from drives with head crashes, preamplifier failures, or other mechanical issues requiring a cleanroom.
Avg. cost: $787
*
10% Degraded surface:
another type of mechanical failure, also known as bad sectors, which usually does not require a cleanroom.
Avg. cost: $545
*
9% Logical issues:
includes recovery of deleted data and similar logical issues.
Avg. cost: $336*
4% Advanced firmware:
includes advanced firmware failures not covered under the $60 Hard Drive Repair, such as corrupted firmware on the disk platters.
Avg. cost: $567*
*All data recovery services are all-inclusive and include repair, recovery, parts, and transfer media. These prices are the average paid by actual customers in 2014 excluding discounts, such as those our Partner Program members receive. Prices will vary depending on several factors. The $60 Hard Drive Repair Service is not a data recovery service and only includes repair (parts and labor) for drives that do not need data recovery.
Hard Drive Repair for All Storage Brands
Top Rated Hard Drive Repair Company
4.8
out of
5
based on
791
user ratings
Broken Hard Disk Drives - Questions & Answers
What is included in the $60 Hard Drive Repair?
For $60, we will repair or replace your faulty PCB, patch minor firmware issues, and/or correct PUIS errors that disable the drive from spinning. This service does not include fixes for mechanical issues or other cases where full data recovery is needed, such as logical or advanced firmware failures failures. If any of these errors are present, we will offer to fix them if possible, but the cost will be higher.
What if my drive is not eligible for the $60 Hard Drive Repair?
Many drives we receive can be fixed for $60, but if yours has further damage, it may require a more advanced repair service or full data recovery. If this is the case, we will contact you to let you know how much those services would cost. You may then either accept or have your drive sent back to you. You will not be responsible for the $60 fee.
Who is Outsource Data Recovery?
We are an innovative IT company that wants to help you get your data back. We have decades of combined experience in data recovery, and are committed to making the process as easy and pleasant as possible.
What results can I expect?
Every case is different, but we are able to fix most drives we receive to a functional state so that you can start up your computer and back up your files onto another drive. Some drives have errors that cannot be fixed. If this is the case, you will not be responsible for the $60 fee. Check out our reviews to see what past customers have to say.
How long does the repair service take?
Diagnostics take 1-2 business days to determine eligibility. The repair service will then take an additional 7 to 10 days. Emergency 24-hour option is available upon request for an additional cost.
How will I know if my drive will work when I get it back?
Upon completion of the service, we will perform required data access test. If it passes, you will have full data access. If you have any issues, contact us immediately, and we will make it right.
Will you look at my data?
No. Our equipment used for this service blocks our technicians from any data access. The only tool available is LBA access check to ensure you can get to your data. By servicing Client media, Outsource enters in a full non-disclosure agreement with its Client.
Can I send just a PCB?
You may send the PCB by itself; however, we will perform the service only if the PCB has an external ROM chip. Furthermore, we will not be able to run any diagnostics without the whole hard drive. There are no refunds in these cases.
Is the Repair Service available at all locations?
The $60 Repair Service is only offered at our main lab in the United States. Our European lab in Germany only offers recovery services.